Lifeguard Training Jacksonville Florida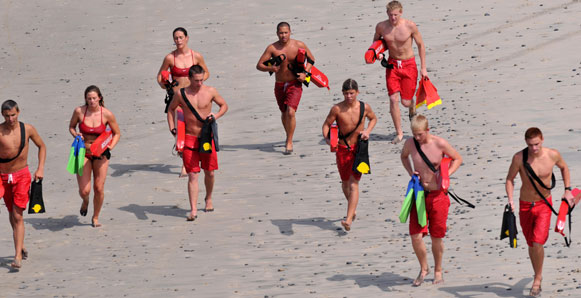 Riverside is an authorized American Red Cross provider of quality health and safety services to communities in the region. It prides itself in duly-certified trainers who can conduct intensive courses ranging from pet first aid to to lifeguard training that includes preparations for CPR certification (Jacksonville FL).
Lifeguard-trainees receive a minimum of four (4) hours of monthly in-service training that consists of a review of the following: designing and executing an Emergency Action Plan (EAP), active water rescues, unconscious water rescues, spinal extractions, water surveillance, guest courtesy and care. More important, Riverside students are reviewed comprehensively to make them earn their First Aid and CPR Certification. They are also trained to handle the automated external defibrillator (or AED) – a portable electronic device used in first aid, first responder, and basic life support situations.
Life of a Lifeguard
A lifeguard is a trained professional who is responsible for the safety of guests and the reduction of accidents in an area of water – be it a constructed pool or a natural body of water that is fit for public swimming. He or she is expected to respond to medical emergencies, accidents, or drowning that occur in the water and the immediately surrounding area.
From sitting to water-level monitoring, a lifeguard watches for unusual activity: They take note of struggling swimmers, strong swimmers, swimmers with sudden medical conditions, and swimmers who are inactive or submerged.
Lifeguarding requires stamina, constant-surveillance skills, and a high awareness level to identify impending dangers within the area of responsibility. It also requires the ability to make decisions quickly, as well as the power of rule enforcement.
Lifeguards can work anywhere from 3 to 40 hours per week. Working in groups of two to five, they rotate every hour to keep a vigilant watch on every one. Schedules will vary base on performances, holidays, requests, and availability.
Lifeguards are also expected to be proficient and willing as pool/deck monitors. As such, their tasks include:
Testing and logging pool chemicals, pH levels, and abnormalities in the water
Checking access and identification cards of patrons
Grasp and implement Amenity Policies and Procedures
Understanding and executing an EAP that covers the area of responsibility
Demonstrating enthusiasm to maintain clean surroundings, even if it means having to straighten and arrange pool furniture, wipe tables, take down and store pool umbrellas, and pick up trash or debris within the pool vicinity.
To Qualify as a Lifeguard
A lifeguard must be at least 16 years of age.
They must possess a valid American Red Cross Lifeguard Certification, First Aid and CPR Certifications. In addition to these prerequisites, they must attend a mandatory in-service session that takes place monthly.
Leadership skills are paramount because a lifeguard is expected to assert his or her authority to maintain a safe swimming environment, enforce water area rules and policies, give directions, and supervise activities.
Other qualifications include:
Effective communication skills with children and adults;
Knowledge of water hazards and rescue methods;
Ability to maintain constant observation of an assigned area;
Ability to minimize dangerous situations; and
Ability to work outdoors in a variety of environmental conditions ranging from high temperatures and humidity to distracting noises and/or severe storm conditions.
Lifeguard Training (Jacksonville, FL)
If you feel that extracting endangered swimmers from the water is your vocation, then Riverside is the right place to begin your lifeguard training. Jacksonville, Florida is the ideal venue to pursue this inclination because of the availability of training facilities, and the proximity to natural water bodies and lifeguarding settings.