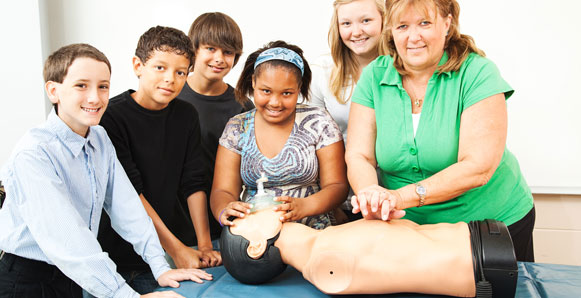 Making sun- and water-worshippers enjoy the glistening First Coast is Riverside's way of life. Apart from giving lifesaving swim lessons for the young and old alike, the company's coaches provide complete CPR classes Jacksonville, to paid and volunteer lifeguards this side of the Sunshine State.
Riverside is an authorized American Red Cross provider of quality health and safety services to communities in the region. It prides itself in duly-certified trainors who can conduct lifeguarding courses, including basic first aid and cardiopulmonary resuscitation (CPR) classes. Jacksonville, Florida is an ideal location for the training modules because it has a host of water-body settings where thoery and practice can best be demonstrated.
To be deserving of the American Red Cross Certification, students are trained on an instructional program that has well-designed first aid and CPR classes, including lessons on the proper use of basic life support and the automated external defibrillator (AED).
Riverside's training services are geared towards skills-enhancement for aspiring lifeguards – whether paid workers or volunteers – all of whose capabilities and efficient systems would prove effective in emergency-response situations. Depending on the students' need, the modules are flexible and can package in guides in conducting swim lessons Jacksonville, FL for children and adults when off lifeguarding duties.
At the end of the course, and upon receiving the American Red Cross Certification, our students become qualified, authorized providers of health and safety services in the community. Their vocation will have become meaningful because of the comprehensive First Aid and CPR classes Jacksonville, FL conducted with care and authority.